3 Mt Elizabeth #12-09, Mt Elizabeth Medical Centre, Singapore 228510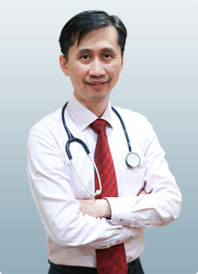 About Us
Dr Ho Chee Khun is a Renal Physician who has comprehensive expertise in the fields of Renal Medicine and Internal Medicine. While Dr Ho specializes in dialysis and critical care nephrology, years of extensive training have also equipped him with skills to effectively handle a wide range of other kidney diseases, including kidney impairment, inflammation, infection and transplantation. Apart from kidney-related conditions, Dr Ho also offers care and consultation in various medical conditions that are related to kidney disease, such as hypertension, diabetes and vascular diseases.
Common Kidney Conditions

Blood in urine treatment in Singapore will depend on the cause of bleeding. Commonly, antibiotics are prescribed in cases of urinary tract infections. In men, bleeding caused by an enlarged prostate can be addressed through prescription medication or surgery. Kidney stones, meanwhile, require extracorporeal shock wave lithotripsy (ESWL) to break down stones, allowing them to be passed naturally from the body.

Treatment for hypertension includes diet and lifestyle adjustments, which typically involve maintaining a healthy weight or losing weight if overweight or obese, quitting smoking, limiting alcohol intake, exercising and meditating. Adopting a high-potassium diet and sodium-contained meals is advised to lower sugar and cholesterol levels. Medications such as diuretics and ACE inhibitors may be prescribed to manage high blood pressure.

Symptoms of kidney infection in Singapore can be managed through at-home treatments like applying heating pads on the abdomen or lower back, taking pain relievers and staying hydrated. Kidney infections are also treated with antibiotics. In more serious cases, surgery may be advised.

Antibiotics are the first-line treatment for urinary tract infections. Additionally, drinking plenty of water, staying away from alcohol, coffee and soda, and using heating pads can help relieve symptoms. For severe cases, intravenous antibiotics may be advised.

Proteinuria refers to high levels of protein in the urine, which can lead to kidney damage. Protein in urine treatments in Singapore consist of changes in diet, medications, weight management and proper exercise. Patients who have diabetes and high blood pressure are recommended to have annual urine tests to prevent kidney disease.

Kidney failure occurs when one or both kidneys are no longer able to function properly. It can cause problems in filtering waste from the blood, causing toxins to accumulate in the body. Kidney failure symptoms in Singapore include extreme fatigue, vomiting, swelling in hands and ankles, having sleep problems, severe muscle cramps, having dry or itching skin, shortness of breath and frequent urination.
Contact Info
3 Mt Elizabeth #12-09,
Mt Elizabeth Medical Centre,
Singapore 228510
After office hrs: +65 6535 8833
Consultation Hours
| | |
| --- | --- |
| Mon - Fri | 09:00am - 05:00pm |
| Sat | 09:00am - 12:00pm |
| Sun / PH | Closed |
Dialysis Centres
(Medical Director/Associate Director)