3 Mt Elizabeth #12-09, Mt Elizabeth Medical Centre, Singapore 228510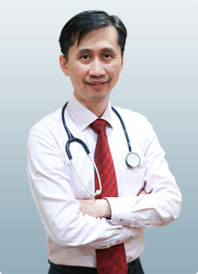 About Us
Dr Ho Chee Khun is a Renal Physician who has comprehensive expertise in the fields of Renal Medicine and Internal Medicine. While Dr Ho specializes in dialysis and critical care nephrology, years of extensive training have also equipped him with skills to effectively handle a wide range of other kidney diseases, including kidney impairment, inflammation, infection and transplantation. Apart from kidney-related conditions, Dr Ho also offers care and consultation in various medical conditions that are related to kidney disease, such as hypertension, diabetes and vascular diseases.
Common Kidney Conditions

Happens when your kidneys or other parts of your urinary tract allow blood cells to leak into your urine. Several causes of this problem include urinary tract infection, kidney infection, kidney stone, enlarged prostate or other kidney diseases.

One of the most dangerous aspects of hypertension is that you may not know that you have it. In fact, nearly one third of people who have high blood pressure don't know it. The only way to be sure is through regular checkups.

Generally begins in your urethra or bladder and travels up into your kidneys. A kidney infection requires immediate medical attention. If not treated properly, it may permanently damage your kidneys.

Symptoms include pain or burning feeling during urination, feeling of urgency to urinate, an altered appearance of the urine, difficulty in passing urine, etc. A complete investigation is necessary to ascertain the cause.
Contact Info
3 Mt Elizabeth #12-09,
Mt Elizabeth Medical Centre,
Singapore 228510
After office hrs: +65 6535 8833
Consultation Hours
| | |
| --- | --- |
| Mon - Fri | 09:00am - 05:00pm |
| Sat | 09:00am - 12:00pm |
| Sun / PH | Closed |
Dialysis Centres
(Medical Director/Associate Director)